VISITING FRUIT ORCHARDS
(Ninh Kieu – Cai Rang floating market – Fruit orchards – Hu tieu Pizza)
Tour code: DL2.CT-CN-VTC
Transportation
: Cruise ship.
Departure
: 7h30 - 11h00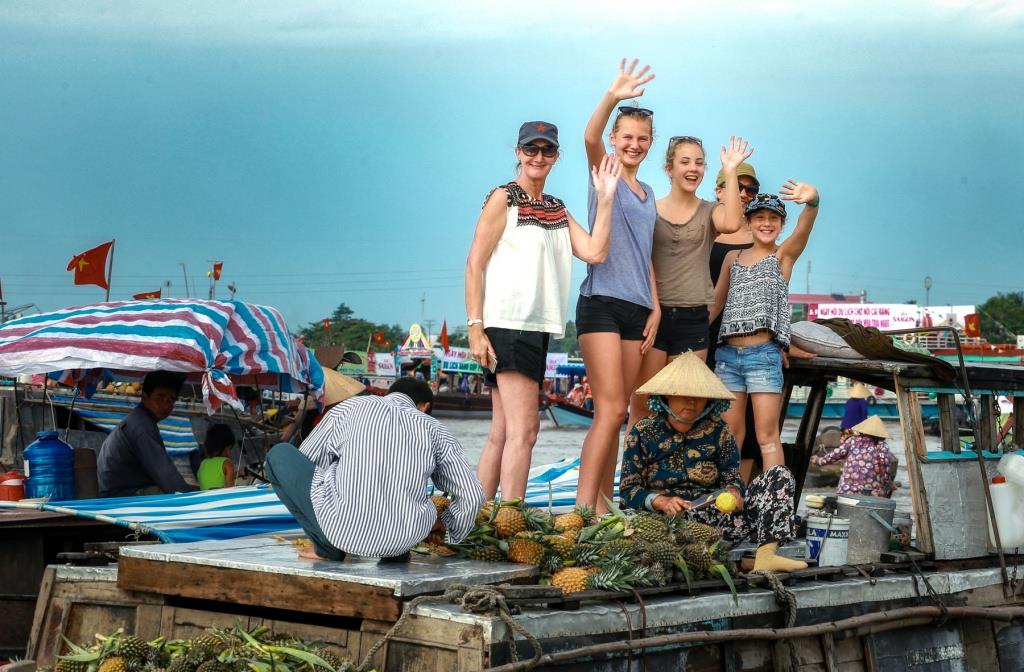 7h00
:
Picks you up at the hotel lobby, take you onto the cruise ship, and depart for the visit to Cai Rang floating market.
This is the focal-point market specialized in wholesaling all types of fruit and agricultural products of the region, the good is accumulated here in vast quantity.
Bath yourself in the bustle of the market, the travelers have the opportunity to watch and learn about the everyday life of the many river trader families with multiple generations living on the sampan.
Many of these boats literally "mobile apartments" on the water, equipped with bonsais, various types of pets … all kinds of necessity for permanent residence.
Visit the traditional handicraft village for Hu tieu pizza.
Here you will have the opportunity to explore the Hu tieu noodle factory, watch the stages in the making of the noodle and, most importantly, you may get to pick up for yourself the tricks in making this very tasty, snacky dish. Aside from the coconut cream hu tieu pizza, there is also dried hu tieu pizza: pork rib hu tieu cooked in coconut milk, stir-fried seafood hu tieu, etc. The local is also currently investing in homestay housing with well-equipped bedrooms as well as compact karaoke rooms, you may stay overnight and have a taste of the rural life in this river countryside.
Visit the Fruit Orchards.
Depends on the seasons and the time of the year, these orchards may home various types of fruit, but usually most fruit the Mekong Delta are ripe in Summer. For that reason, Summer is the prime season when the region's crowded with tourists visiting the orchards.
11h00
:

Depart for the hotel. End of the tour.
*****
TOUR PRICE FOR CHILDREN:
1-4 y/o: Free of charge – The family feed the children themselves.

5-9 y/o: 50% of tour price – special meal portion.

10 y/o: 100% of tour price – same meal portion as adults.

For children 5 years old or smaller, you may have 1 tag along for free, if there are more than 2 children of that age, ½ of tour price shall be charged. Benefits for ½ tour price: 01 meal portion, 01 seat, tickets to sites.
TOUR PRICE INCLUDES:
Transportation: the cruise ship planned in the program.

Tickets to site in the programs.

VAT.
TOUR PRICE DOES NOT INCLUDE:
Food at the sites.

Other personal expense not planned in the tour.
PAYMENT TERMS:
Deposit 50% of tour price at the point of registration.

Pay the rest at least 01 day before the departure.
Tour cancellation prior to departure.
03 days in advance, 20% cancelation fee.

02 days in advance, 30% cancelation fee.

01 days in advance, 50% cancelation fee.

Less than 24h in advance, 100% cancelation fee.
Wish you great health and great tour!
Products in this Category